Let's do an analysis with the 3 best orange juicers of the market, for which we will take into account both their aspects for and against, functions and options that they offer us, we will also highlight the characteristics by which they are the most popular models for users based on their experience of use. We're talking about home juicers, not professional juicers. Let's see.
Braun TributeCollection CJ3050
We start with a simple and economical but high quality model that is none other than the Braun TributeCollection CJ3050, without a doubt deserving of being on our list of best juicer is oranges.
As you can see, it is an electric juicer with traditional or classic format, that is, at the top is where the piece that is connected to the engine is located and, by rotation, it takes care of squeezing any type of citrus.
At the bottom we will place the step to collect the juice that comes out of its mouthpiece, since it has no deposit.
We remind you that this juicer comes with a filter system with which we will be able to pour the juice directly into the glass without mixing the liquid with the pulp.
Its anti-drip system is very efficient, and it avoids the usual stains that were produced with this type of juicer, and to use it we only have to move up or down the nozzle.
One of the things that we have liked the most about this 60 W juicer is that it does not have any buttons,but that all you have to do is plug it in, and when we press with the piece of fruit on the juicer,it will automatically start running.
In addition, this system also helps to save electricity during use, and to prevent that when we do not use it can be stained, it comes with a simple cover with which we will protect the device.
It should be noted that it is also ideal when cleaning, as all parts to be washed can be put in the dishwasher.
As for the experience of use, it should be noted that we are talking about a juicer that is designed to be able to work continuously, but remember that the filter of the pulp has a limit, and especially if we are squeezing fruits with a lot of bone, it is important to empty it if we do not want it to get stuck.
Cecotec Zitrus 160 Vita Inox
A juicer model that comes in 160 W and 600 W versions.
It is made of stainless steel so its appearance is of quality besides that it offers good resistance to the passage of time.
Its parts can be cleaned without any problem in the dishwasher,and also incorporates a very efficient filtering system with which we can pour the juice directly into the glass and thus work continuously.
It has an anti-drip system that allows us to open and close the mouthpiece, as well as having two cones of different sizes to squeeze,so that we can adapt it to the size of the citrus and thus achieve greater effectiveness.
The lever system makes the process not only more comfortable, but also much cleaner, allowing you to make the most of all the fruit.
Taurus Easy Press
Finally we leave you with this orange juicer that is definitely among the best on the market.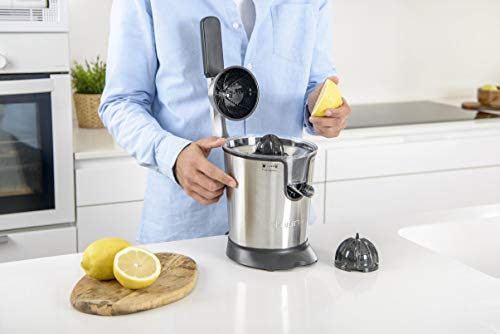 While it is true that its price is somewhat higher compared to the previous two models, we are facing a truly interesting leap in quality.
We have the possibility to choose between three different formats that are 160 W with a cone, of that same power with two cones of different size, and finally the 300 W model that is only served with two cones.
It also incorporates lever to facilitate the process and maintain the cleaning, and inside it incorporates a 650 ml tank where the juice will be stored as we squeeze it.
However, your mouthpiece can also be lowered with a simple tap so that, instead of passing through the tank, you will go directly to a glass that we place in front of it.
Your system of double filtering it is very interesting, because on the one hand we will not have to worry about nuggets, and in the case of the filter for the pulp, we will be able to regulate it with the aim of allowing more or less quantity to pass to the final product, thus adapting to all tastes.
Another very interesting advantage is the fact that it is a very quietappliance, so it is certainly a good investment especially if we are going to prepare juice very often.
These are the top three juicers oranges,having each of them some characteristics and peculiarities that make it more interesting depending on the use that we are going to give it, offering at the same time a magnificent polyvalence that will allow us to make a great advantage of this appliance essential in all homes to enjoy the best oranges and also lemons.